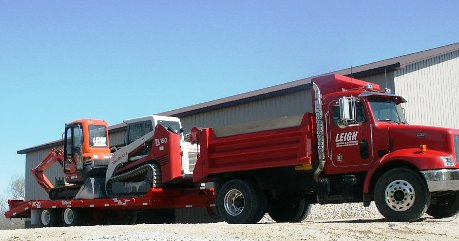 Grading and backfill
Build/repair sidewalks and driveways
Haul dirt, limestone, clay, sand, etc.
Foundations dug for homes and home additions
Washed out shorelines repaired and fortified
Excavating in close quarters
Trenching and back hoeing
Demolition estimates on sidewalks, driveways, etc.
Parking lot and building foundations
complete Bobcat & mini excavator service
Snow plowing and snow removal
Here's a short video showing Gus Leigh on the Kubota excavator while doing some precise digging in a septic field.
Leigh Trucking and Landscaping is the father and son team of Doug Leigh and Gus Leigh. They not only have the experience, skill, and equipment, but also the commitment to service that will bring success to your trucking or landscaping job.
They own a tandem axle 6 wheeler dump truck capable of hauling 50,000 pounds or 10 yards of limestone. They also own a 4 wheeler dump truck that is capable of hauling 25,000 pounds or 5 yards of limestone.
A Kubota mini-excavator is their unstoppable workhorse that can work in tight quarters and make an otherwise tough job to be an easy one. Gus Leigh is such a talented operator of the mini excavator that an observor in Norway, Illinois said, "If I had an itch on the back of my head, I wouldn't be afraid to have Gus scratch it with that bucket!" The mini-excavator's bucket has a hydraulic "thumb" which can grab and lift tree trunks and other awkward objects if needed.
Leigh Trucking and Landscaping works with both developers and individuals. The trucks for hire commonly do custom hauling of CA6 grade 8 limestone, mason sand for swimming pools, torpedo sand for improving garden drainage, black topsoil, pulverized black topsoil, and fill clay. Leigh Trucking and Landscaping usually does not recommend pulverized topsoil due to possible clay content.
If you need to dig a good foundation for a home, a room addition, a driveway, or a parking lot, call Leigh Trucking and Landscaping; they will complete a job for foundations, footings, and tiling to exact measurements.
Based out of their heated shop and garage in Plano, Illinois, Leigh Trucking and Landscaping serves the surrounding area including Sandwich, Yorkville, Somanauk, Newark, Oswego, Montgomery, Aurora, Sugar Grove, Hinckley, Big Rock, Aurora, and Naperville.
Leigh Trucking and Landscaping has local experience repairing washed out and eroded shorelines at Farm Colony in Oswego and at Blackberry Creek in Yorkville; they know how to clean the bank area, install and shape clay, lay down fabric, and install rip rap stone for a scenic look.
The photo in the left column shows the shoreline at Doug's home. Note the way the rocks blend cleanly into the landscaping. This pond/stream required major re-buidling after the "500-year flood" in 1995 that washed out the portion of Frazier Road shown here; the flood also removed the prior culvert along with a mountain's worth of dirt.